When procuring medical services, selecting an accredited, reputable and dependable supplier is essential. Red Lion EMS is accredited by Singapore Ministry of Health as a provider of emergency prehospital services and is approved to carry scheduled medications (pain relief, emergency drugs) for the treatment and management of injured or ill patients.
Red Lion EMS has a highly credentialed and qualified team of Emergency Medical Technicians, Paramedics and Registered Nurses who can provide an unrivalled level of service to remote sites, construction zones and offshore facilities. We can provide your site with trained, experienced and certified medical, nursing and paramedical staff along with fully equipped emergency response vehicles.
With a reputation for the provision of reliable medical personnel, we are able to review your industry and site requirements and supply the right level of pre-hospital response for your business. Contact us today to discuss your site needs and ensure your medical obligations are met with the appropriate resources.
Whether your company needs a single qualified paramedic to provide medical support for your oil and gas operation, or you need to fully staff a health centre or clinic, we can provide the right medical staffing solution with the following disciplines:
Medical Rescue
Primary Healthcare
Emergency Medical Care
Occupational Health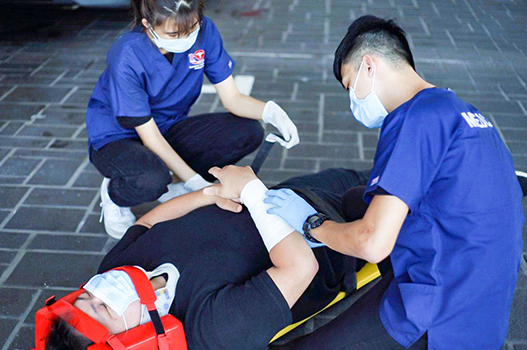 Whether you require a single paramedic or a full-scale service for a period of years, months, weeks or days we can provide a service that suits your business needs:
Qualified, professional Medical and Paramedical personnel
Immediate assistance in the event of an accident
Medical care onsite to get your staff back to work ASAP
Organization of the most appropriate transport (air, ground) for injured workers
Records and clinical review of all injuries treated and any identification of injury patterns
First Aid Kit, Trauma Bag and AED supply or checks on site
Safety walks and simulations
Medical Emergency Response Training (MERT) for rescue and primary care givers
Fully Equipped Ambulances
We operate a fleet of fully equipped ambulances and response vehicles that can be deployed to your site as part of the medical service.